Evaluation and Learning Research Center
The ELRC is a national and international recognized leader in education research and evaluation. Known by federal agencies for conducting rigorous research and evaluation, the ELRC maintains of portfolio of 20 active projects, adds credibility and value to over 40 proposals each year, and consults with faculty across the Purdue University campus and beyond on a host of nascent stage projects. ELRC evaluation expertise is often a win differentiator for competitive proposals and scholarship driven by ELRC professionals and propels Purdue into the national conversation surrounding evidence-based education reform. The ELRC is seen as a national model for effective STEM education research and evaluation.
News 
Three Million Dollar Grant Renews Funding for Purdue Program Expanding Access to the Veterinary Profession
 Friday, September 1, 2023
The Purdue University College of Veterinary Medicine is receiving vital new federal support for an innovative program addressing a national shortage of veterinarians in public health and rural/food animal practice in Indiana and beyond, and a significant lack of underrepresented individuals entering the veterinary profession. The Health Resources and Services Administration (HRSA), an agency of the U.S. Department of Health and Human Services, has renewed a five year, $3.2 million grant to further the success and impact of Vet Up!® The National Health Careers Opportunity Program (HCOP) Academy for Veterinary Medicine.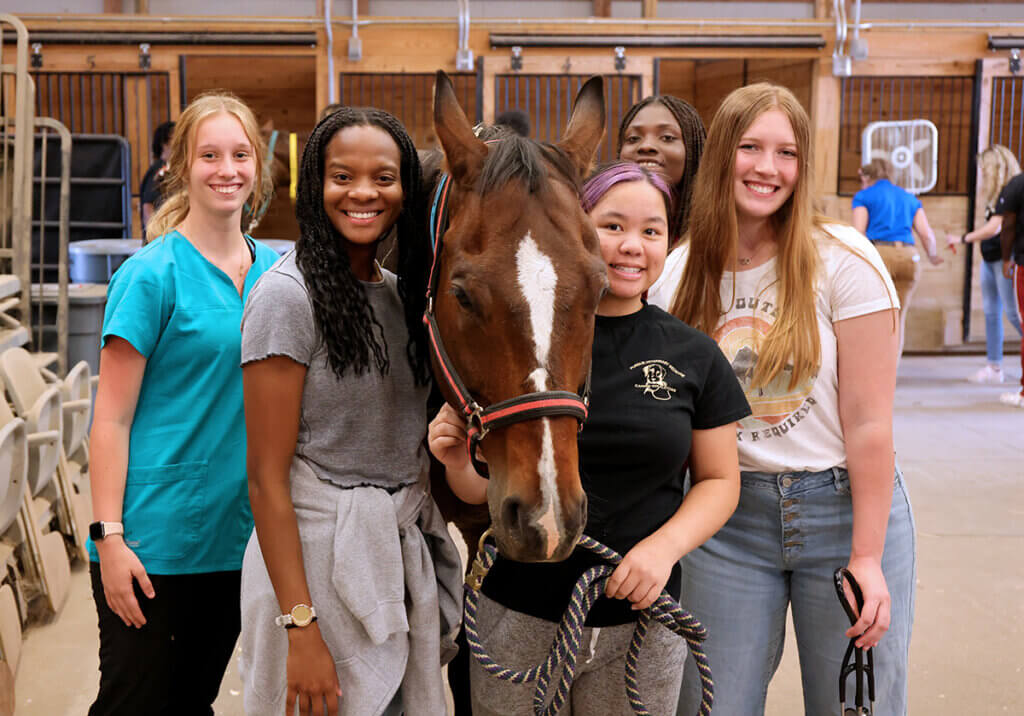 2023 Vet Up! College participants take part in a hands-on session learning about equine medicine during the summer residential program.
Established with an initial HRSA grant in 2018, Vet Up! is designed to meet the goal of filling veterinary shortage areas with equity-minded individuals from underrepresented populations and rural areas. The program is based at Purdue, which has the only veterinary college in Indiana and is home to the Center of Excellence for Diversity and Inclusion in Veterinary Medicine.  Vet Up! has leveraged PVM's proven history of effective diversity programming and partnerships with high schools, historically Black colleges and universities (HBCUs), and state entities to design and deliver curricula that provide otherwise-inaccessible opportunities to students.
With the renewed grant funding, the Vet Up! National HCOP Academy for Veterinary Medicine will expand by taking a comprehensive approach to provide academic, experiential, financial, and social support to disadvantaged students. In clear alignment with the purpose of the HCOP, Vet Up! will pursue multiple objectives:
Identifying and recruiting students from disadvantaged backgrounds to competitively enter and complete college and university programs in veterinary medicine and other STEM fields;
Preparing students from disadvantaged backgrounds to complete preliminary education requirements and provide academic and social support to prepare them for competitively entering and completing a veterinary professional degree program;
Providing comprehensive bridge programming to disadvantaged students who are enrolled as DVM degree candidates to enable a successful experience in rigorous professional veterinary education programs;
Providing academic, financial, social, and wellness support to veterinary students from disadvantaged backgrounds to facilitate timely completion of their veterinary education and graduation with their DVM degree; and,
Implementing an integrated, comprehensive evaluation process that monitors and informs progress and outcomes of program participants, Vet Up! components, and the overall project, through a longstanding partnership with Purdue University's Education Learning and Research Center.
The Vet Up! program includes the following components. 
Vet Up! Champions combines face-to-face and interactive online learning to provide a 12-month structured curriculum to an annual cohort of 26 participants consisting of high-school juniors/seniors, adult/nontraditional learners (including veterans), and undergraduate students.
Vet Up! DVM annually provides five disadvantaged DVM students with social, academic, and financial support through structured activities that span the four-year-long curriculum to guide and mentor them to timely graduation with a DVM degree.
Vet Up! College – the HCOP summer program – is a six-week-long immersive, structured program at the Purdue University College of Veterinary Medicine for 26 undergraduate students annually that prepares students to be competitive in the DVM applicant pool.
Vet Up! Prep – the HCOP pre-matriculation program – is an annual four-week residential program for 10 students prior to the start of the fall semester of the Purdue Veterinary Medicine program that bridges gaps involving challenging PVM courses, study skills, and an understanding of the concept of One Health.
Completion of Vet Up! College is required to be eligible for the DVM Scholars program.
"With the renewed grant funding, Vet Up! will continue leveraging PVM's long-standing partnerships with high schools, HBCUs, and state entities to develop and implement curricula that provide new opportunities to students," said Marsha Baker, assistant dean for diversity, equity, and inclusion and the principal investigator on the grant. 
Central to achieving the overall program goal associated with the renewed grant, Vet Up! also will provide opportunities for community-based experiential health professions training, emphasizing experiences in underserved communities through three objectives: 
Collectively developing and implementing Vet Up! student projects that impact an underserved community;
Enabling Vet Up! students to conduct research projects that focus on One Health and health equity initiatives that are led by PVM faculty and campus partners; and,
Providing an experiential learning opportunity in an underserved community for Vet Up! College and Vet Up! Prep participants by collaborating with community and state partners. 
"With these components interwoven as one, Vet Up! will create an equity-minded, diverse veterinary workforce with the medical and social expertise needed to solve complex healthcare problems," Mrs. Baker said.
Purdue Veterinary Medicine Dean Willie Reed said the renewal of the grant funding is wonderful news that will bring hope to many more outstanding future veterinary professionals who, apart from Vet Up!, wouldn't realize there's a place for them in veterinary medicine. "Since the inception of Vet Up! I have marveled as I have seen the eyes light-up in young people from diverse backgrounds as they experience the hope, support, and encouragement that this creative and inspiring program provides," Dean Reed said. "It is so heartwarming to hear the Vet Up! participants describe how it was through this program that they realized there are successful veterinarians who look like them, and that the veterinary medical profession needs and welcomes students from all backgrounds. I am gratified every time I see students who realize that the dream I had years ago of becoming a veterinarian can come true for them just like it did for me."
The successful grant request reflects the influence of letters of support contributed by Purdue University and other PVM partners, including Purdue Global, Purdue Polytechnic High School, the Indiana Area Health Education Centers (AHEC) Network, the Indiana Board of Animal Health, and Dr. Jerome Adams, Presidential Fellow, executive director of Purdue's Health Equity Initiatives, Distinguished Professor of Practice, and the 20th U.S. Surgeon General.
Vet Up! is an award winning program, having received multiple awards presented by INSIGHT Into Diversity magazine, the largest and oldest diversity and inclusion publication in higher education. This year marked the third time that Vet Up! has been recognized as a recipient of the magazine's Inspiring Programs in STEM Award.
Click here for more information about Vet Up!
Writer(s): Kevin Doerr | pvmnews@purdue.edu
category Category: Diversity, Our Impact
Education, Nursing faculty collaborate on Dept. of HHS grant to improve graduate nursing education - Purdue University College of Education
Education, Nursing faculty collaborate on Dept. of HHS grant to improve graduate nursing education
AUGUST 24, 2023
SHARE:
Faculty members from the Purdue University College of Education, the School of Nursing and the College of Health and Human Sciences have received a U.S. Department of Health and Human Sciences Substance Abuse and Mental Health Services Administration (SAMHSA) grant to help educate graduate nurses about opioid use disorder (OUD). The program will use a massive open online course (MOOC) platform to deliver the training.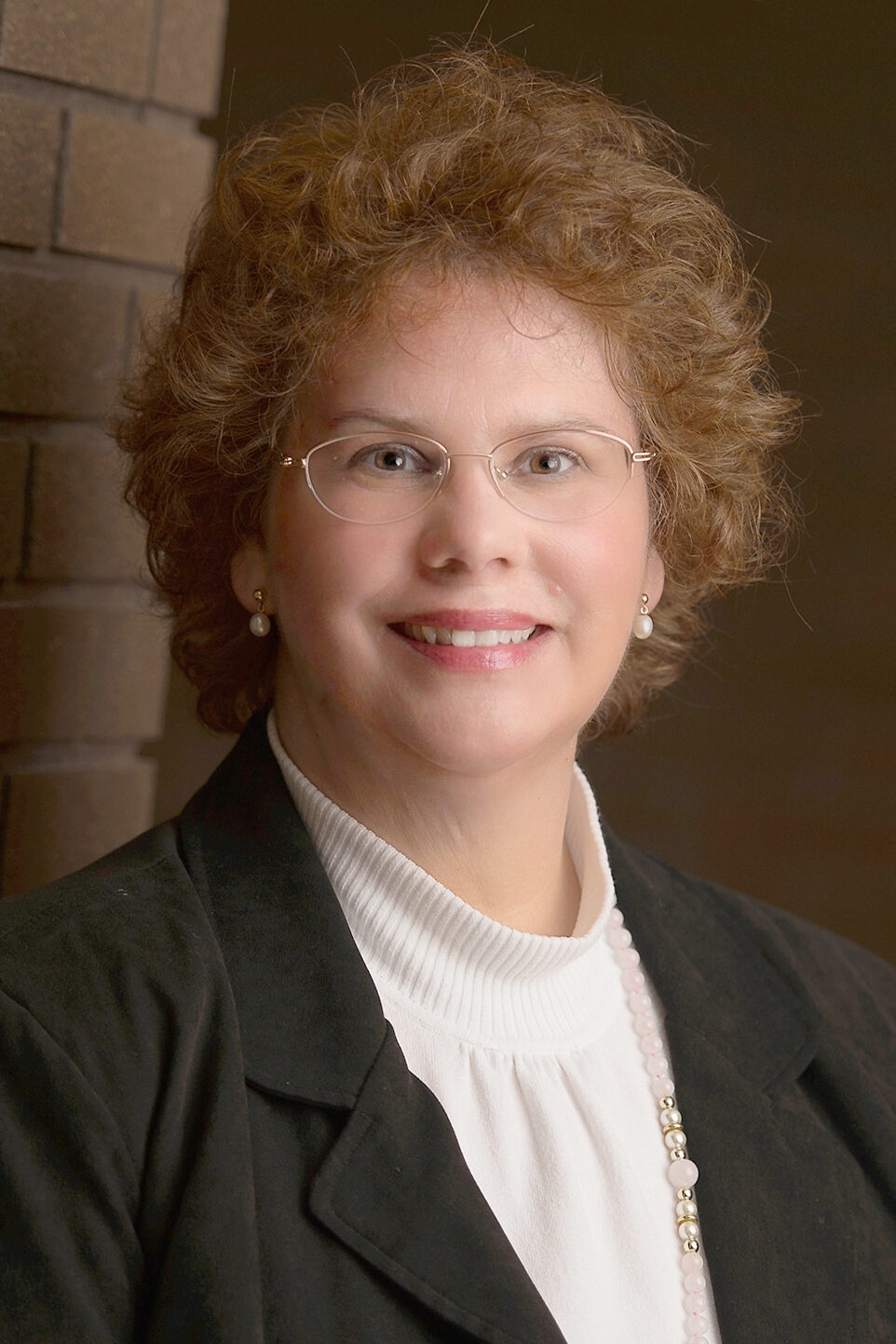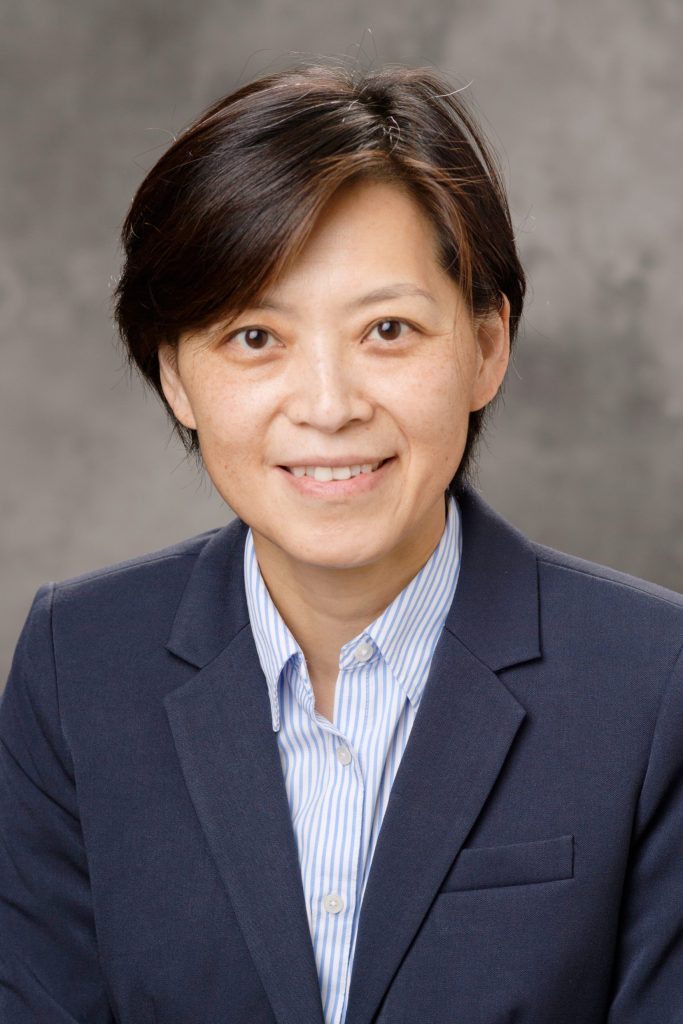 (l to r) Karen J. Foli and Wanju Huang
Karen J. Foli (PI), professor of nursing in Purdue's School of Nursing, and Wanju Huang (Co-PI), clinical associate professor of Learning Design and Technology (LDT) in the College of Education, will collaborate on the project Advanced Practice NuRses' Opioid Use Disorder Education Through a Massive, Open, Online Course (APROUD-MOOC).
The three-year, $726,000 grant seeks to integrate education about substance use disorders into Purdue's graduate nursing curriculum to make education related to substance use more widely available. The funding will be used to update a current MOOC, Nurses' Substance Use Education Through a Massive Open Online Course (NSUE-MOOC), that was designed to provide education across levels of nursing education. The funding will also create a new MOOC designed to provide advanced practice nurses the knowledge to accurately assess and provide OUD medication to individuals (APROUD-MOOC).
Huang is a key part of the interdisciplinary team. She assisted in the development of the first online learning course on substance use for nursing students, NSUE-MOOC. Huang will also provide instructional design assistance for the creation of APROUD-MOOC. Foli, the project director, has led both SAMHSA projects, NSUE-MOOC and APROUD-MOOC.
The project offers real-world instructional design opportunities, and Huang will recruit LDT students to assist with the learning module design and development.
Huang, Foli and their team have already developed seven NSUE-MOOC modules which SAMHSA posted on its Addiction Technology Transfer Center Network, an international, multidisciplinary resource for professionals in the addictions treatment and recovery services field.
Besides Foli and Huang, the project team includes Libby Harris, project coordinator; Nicole Adams, nursing faculty and community liaison; Leah Gwin, liaison to the Family Nurse Practitioner and Adult Gerontology Nurse Practitioner programs; and Lindsey Becker, liaison to the Pediatric Nurse Practitioner and Psychiatric Mental Health Nurse Practitioner programs.
"Professor Huang's collaborative project is an example of scholars working together to create innovative educational resources for nursing professionals working to combat opioid abuse," said Janet Alsup, head of the College of Education's Department of Curriculum and Instruction.
Wilella Burgess, director of the College of Education's Education Learning and Research Center, and Luke Ingersoll, research associate, will evaluate the project's effectiveness by documenting program outcomes to guide future program improvement and decision making.
Foli stressed the urgency of providing these resources. "In the United States alone, 190 deaths per day occur because of opioid overdoses," she said. "The landscape becomes more complex as dangerous drugs are mixed with opioids."
Sources: Wanju Huang, huan1040@purdue.edu; Karen J. Foli, kfoli@purdue.edu
New Publications
Jennifer Sdunzik, together with COE's associate professor Chrystal S. Johnson, guest-edited the Special Issue Re-imagining Teaching and Learning in the Context of Current Crises for the journal Research in Educational Policy and Management. The special issue focuses on opportunities to reimagine educational spaces, practices, and policies in the wake of the global COVID-19 pandemic. In their co-authored piece, "Conceptualizing Adolescent Black Youth Political Efficacy in an Era of Crises," Sdunzik and Johnson conceptualize a theoretical framework to investigate youth political efficacy, discussing the interplay between racialized identity and civic engagement of adolescent Black youth.

Two Purdue Veterinary Medicine Programs Receive INSIGHT Into Diversity Magazine's 2021 Inspiring Programs in STEM Award
The ELRC is proud to be the Evaluation Team for two programs, "The League of VetaHumanz" and "Vet Up! National HCOP Academy for Veterinary Medicine.". The Purdue University College of Veterinary Medicine (PVM)  received the 2021 Inspiring Programs in STEM Award from INSIGHT Into Diversity magazine, the largest and oldest diversity and inclusion publication in higher education, for two programs, "The League of VetaHumanz" and "Vet Up! National HCOP Academy for Veterinary Medicine."  The Inspiring Programs in STEM Award honors colleges and universities that encourage and assist students from underrepresented groups to enter the fields of science, technology, engineering, and mathematics (STEM).  The Purdue University College of Veterinary Medicine will be featured, along with 78 other recipients, in the September 2021 issue of INSIGHT Into Diversity magazine. https://vet.purdue.edu/news/insight-stem-award.php
What We Do:
Conduct original research that pushes the boundaries of our understanding of education and educational best practice
Support research, education, and engagement projects through expertise in educational theory, evaluation, and project management
Partner with both internal and external stakeholders to enhance accountability, visibility, and reputation.